Casa Tua has moved to a NEW home…
Yes they truly are, Casa Tua has moved to a new home,our new location is, Calle Virgen de Pilar 17 located behind 'El Faro' the lighthouse along the Paseo Maritimo in Marbella Centro.
We want to thank you, our loyal customers for your support over the years, and we hope you will move with us to our new location.
We look forward to offering you the same delicious food and great service.
A few words about us
Let us introduce ourselves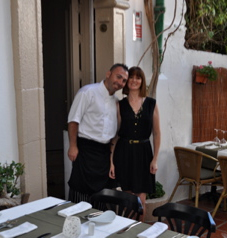 Our Mission at Casa Tua is to establish relationships with our customers, with outstanding food and friendly efficient service. We strive for the best experience for our guests. You will be comfortable relaxed and delightfully charmed that you spent your evening at Casa Tua.
Our Restaurant has a picturesque outside terrace with seating for 30 and for those cold winter evenings we have a cozy inside seating for 40 people.
A place to wine, a place to dine
We opened Casa tua because we wanted to share our passion for food accompanied by a friendly Irish hospitality. The menu was created by Adriano, inspired by his Mediterranean environment and influenced by his worldwide travel experiences. Bringing you fresh seasonal ingredients daily.
Some News Articles
Pan Seared Sea Scallops topped with chorizo sausage and cauliflower puree

.

Vieiras salteadas con chorizo, servido con puré de coliflor.


Sesame encrusted Tuna Tataki served with a spicy mayonnaise

Tataki de atún de almadrabo con sésamo, y un toque de mayonesa picante

Please ask your server for our daily choice of homemade Ravioli.

Pregunte por nuestros raviolis caseros del día.


Garganelli pasta tossed with Italian sausage ragu with a touch of cream and chili spices, drizzled with truffle oil and topped with parmesan cheese.

Pasta Garganelli con ragu de salchicha italiana con un toque de crema y chili, servido con aceite de trufa y queso parmesano.

Fettuccine Pasta with fresh prawns served in a light tomato sauce with courgettes, cherry tomatoes and garlic.

Pasta fettuccine con gambas,calabacines y salsa de tomate cherry.


Potato dumplings served with fresh tomato sauce, topped with fresh basil and melted buffalo mozzarella cheese

Gnocchi de patata servidos con salsa de tomate, albahaca y queso mozzarella de búfala gratinado

Fillet of Irish Beef topped with pan seared foie gras and served with a truffle Madera demi glace.

Filete de ternera irlandesa servido con foie gras y un demi glace de madera y trufa.


Rack of Lamb encrusted with pistachio and mustard, drizzled with an amarena cherry glaze. 

Chuletas de Cordero con una capa crujiente de pistacho y mostaza con reducción de vino tinto y cereza amarene.


Oven baked Chicken Breast stuffed with wild mushroom and fontina cheese, served with a marsala cream sauce.

Pechuga de pollo al horno rellena  queso fontina y setas silvestre servido con una salsa cremosa de marsala

 


Fillet of Turbot with sautéed artichoke and potatoes served with a white wine and cherry tomato.

Filete de rodaballo con alcachofa salteada y patatas servido con vino blanco y tomates cherry.




Chef Adriano's Recipe

La receta del Chef Adriano


Warm Chocolate Fondant Cake, served with Pistachio Ice Cream

Tarta de Chocolate Fondante Caliente, servido con Helado de Pistachio


Fresh seasonal Fruits caramelized and served with Vanilla Ice Cream & Torched Zabaglione

Fruta fresca de temporada caramelizada y servida con Helado de Vainilla y Zabaione




Ice Cream Trio served with Homemade Biscotti

Trio de Helados servido con Biscotti Casero


Cheese Board – Selection of Fine Italian & Spanish Cheeses served with homemade Jams & Oatmeal cookies

Tabla de Quesos – Selección de Quesos Finos Italianos y Españoles servidos con Mermelada Casera y Galletas de Avena

Some of our Wine Selection



UMBRIA- Grechetto grape. Nutty with leafy notes, dry and crisp.


CHARDONNAY IGT MONTEVERDI

PUGLIA – Chardonnay grape. Full bodied crispy oak.


CUVE DI ROSE IGT SANTA MARGHERITA

VENETO – 50% Merlot 50% Cabernet. Dry appealing fruity.


REGALEALI ROSATO, IGT. TASCA D'ALMERITA

SICILIA – 50% Nero d'avola 50% Nerello Mascallese.  Rich, fresh, fragrant.


PRIMITIVO DI PUGLIA MONTEVERDI

Puglia – Red zinfandel grape intense flavour


MONTEPULCIANO D'ABRUZZO PICCINI

Abruzzo – Montepulciano grape, soft flavours, storng colour gentle tannins.


SANGIOVESE IGT TERRA DEGLI OSCI

Molise – Sangiovesse grape, firm tannins, dark cherry, stone fruit.

Here you will find a selection of our dishes, have a look at our Take Away Menu which you can ask for from the kitchen and we shall serve it to order for you to PICK UP!.
Discover our take-away service menu and enjoy the food where you want just as if you were eating with us.
Here you will a selection of our dishes which you can enjoy where you prefer. We have devised a specific Delivery menu which you can order from directly trough our Home Delivery partner GLOVO.
Discover our GLOVO Home Delivery Service Menu and enjoy the food where you want just as if you were eating with us.
Calle Virgen del Pilar 17
29602 Marbella